Create Your Own Fundraiser for Bell
Now you can turn your special day, occasion or milestone into an action of support for Bell Socialization Services – complete with buttons to easily share it on your social media channels and in email.
All you need to do is click on the Start Fundraising button below and then follow the steps to set up your page.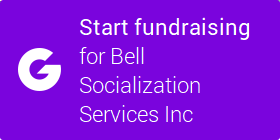 If you have questions or need any help, please contact Melinda by email or phone at 717-848-5767, ext. 516.